Get Ready for Summer Vacation with these 5 Eco-Friendly Products
With the promise of vaccines available to the public in May, vacations and travel is starting to seem not so far off in the distance anymore. And after a year in isolation, I'm sure I can't be the only one looking at plane tickets and making itineraries for future trips -- I mean, I can already smell the sandy air and hear the waves crashing on the beach!
In the case that I'm not alone with my longing to lay out on the beach again, here are my 5 must-have products to keep in your suitcase or bag while exploring your travel destinations this Summer -- whether that be an actual beach vacation or your pool in the backyard.
Beach Blanket with Hidden Storage Compartment
This 55" round beach blanket folds nicely into a compact pouch for easy storage and transportation. The pouch turns into a hidden compartment that can be hidden in the sand under the blanket while in use, making this not only a great blanket to lay out on, but also make s a great hidden compartment perfect for hiding things while enjoying the water!
When folded up, this blanket doubles as a pillow - great for sleeping on the plane ride to your destination!
Recycled 20 Can Backpack Cooler
For those who don't feel safe traveling again yet, you can have an adventure right in your own backyard! Throw some refreshments in this cooler backpack and take your family out to the park and for a picnic and enjoy the fresh air and quality time.
Just because there are travel restrictions doesn't mean you can't turn your nearby surroundings into a vacation destination!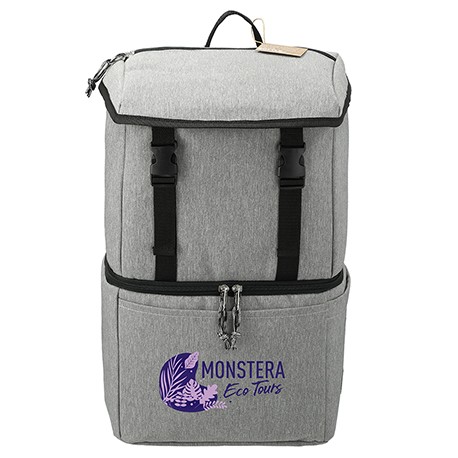 Don't forget your sunscreen and lip balm to protect your skin and face from drying up or burning. While it's great to be outside soaking up all of the sun and vitamin D, it's so important to remember to wear sunscreen but such an easily overlooked item!
These kits can be customized with full-color art and comes with sunscreen, aloe, and lip balm all inside this
cute drawstring bag that can double as a purse for carrying your belongings to the beach or other backyard/travel destinations.
Now that you have your food packed and a place to lay out, all that's missing are some sweet tunes to jam out to!
This full-color waterproof speaker is guaranteed to start dance party anywhere -- whether at the beach with friends or hanging solo in your backyard -- blasting quality sound for hours without worrying if you drop it in the pool or ocean from your wicked dance moves
Doral Wheat Straw Sunglasses
Last but not least, don't forget some cool sunglasses to protect your eyes while out enjoying the day!
These eco-friendly sunglasses are made of 30% wheat straw. They are long-lasting, BPA free, feature UV 400 durable drop-tested lens and are available in soft colors. Packaged with protective film on lens.
With a few different colors to choose from, you'll definitely make a statement showing up to the Island resort wearing these sustainable frames!
With any or all of these items in tow, you're bound to have a great vacation -- be it at the beach or your own backyard. We all deserve to get out a little bit, as long as we have our mask on and social distance from others. Be safe and have a great summer!
---