Welcome!
Eco Marketing Solutions is the leading source for custom printed eco-friendly promotional products featuring your logo and branding.
We take an environmentally and socially conscious approach to promotional products. Our carefully selected line of custom printed promotional products includes either energy saving, natural, organic, recycled or reusable materials in an effort to reduce landfill waste and to help save our environment.
Eco Marketing Solutions offers over 800,000 eco-friendly promotional products-- including imprinted water bottles, reusable tote bags, wood and recycled tech products such as USB, speakers and power chargers, recycled journal books, a complete line or recycled and organic clothing and other unique items for any Earth Day or Arbor Day event, trade show or conference gifts, outreach or marketing campaign.
We have a handy search feature for our site..but feel free to call us at 512.507.4709 or email us at robert@ecomarketingsolutions to discuss your exact needs, budget and target audience.
We look forward to hearing from you shortly.
Daily Special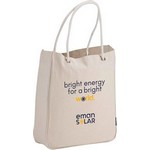 6 oz. Organic Cotton Essential Carry-All...
Main body of bag made from certified 100% organic cotton. Organic cotton farming techniques maintain soil fertility and reduce toxic pesticides and insecticides that pollute our air and water. A great...
$7.48 - $9.43